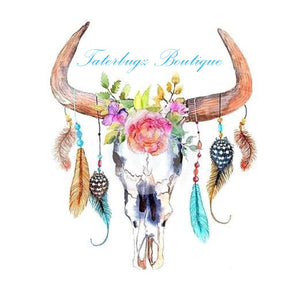 Taterbugz Boutique is a small town boutique with big dreams! We are one big family with the common goal of helping you be FASHIONABLE at and affordable price! We strive to give you styles that make you look and feel good in your skin! You are BEAUTIFUL! Let us supply the clothing to showcase you! ~ With Love, The Taterbugz Fam
Outfit of the month
This is one of my all time favorite outfits! I love the bright vibrant yellow color on this top and the gorgeous crochet detail on the bottom and sleeves of the top. Pair with these gorgeous distressed mid rise jeans! The distressing on these jeans in particular is my absolute fav! They have amazing rose gold sequins patching underneath the distressing! Who wouldn't look absolutely amazing in this outfit?!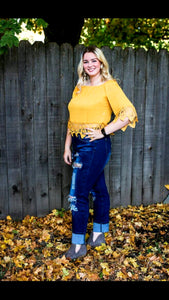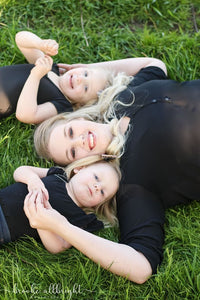 Meet the woman behind Taterbugz Boutique
My name is Taylor and I am the owner and creator of Taterbugz Boutique. I have two beautiful little girls that get to watch their momma pursue her dreams of being a boutique owner and know that they can accomplish whatever they set their minds to. I want to personally thank each and every one of you for helping me accomplish this life long goal of mine! You are amazing and beautiful! Welcome to the Taterbugz Family!